Fundraising Effort Exceeds Goal Raising $168,680 In Support Of Students In Need
Donations have exceeded expectations. In our latest fundraising effort, the Foundation asked for $100,000 and through individuals and our community partners $168,680 was raised. Along with our students, we could not be more grateful. It is amazing to see people coming together to make a difference in these students' lives so they can continue on with their studies. It is important for school fundraising events to take place so that when help is needed people are there to support it wherever possible. Not all students are able to support themselves through their education due to a myriad of reasons, so relying on the goodness of strangers and the community is undeniably fantastic and shows a lot of love and care by people who may have previously been in the same boat years ago when they attended school themselves.
The generosity of our community has helped to provide basic needs such as food, rent, utilities, transportation, and technology to students who are struggling across the entire Maricopa Community College District, as a result of the hardships they face due to COVID-19. Now, because of our supporters, they can stay enrolled in school and are able to finish their educational journey. COVID-19 has hit so many people across the board and caused a lot of issues that we are all trying to get through together, so this has really helped those students who have been unsure about what was going to happen next.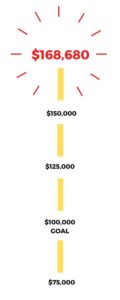 What we've achieved together is truly helping our students, staff and all ten of the Maricopa Community Colleges during these difficult times. Thank you for your continued support.